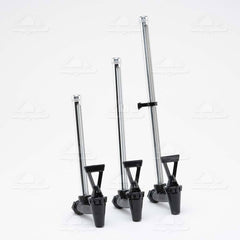 ITEM:

72Z-001
Sight Glass Spigot for Stainless Steel Berkey Systems (Open Box)
|
description
reviews & questions
---
---
---
---
---
---
description
Note: Open

 

Box does not affect the quality of the product.
FINAL SALE - NO REFUNDS, RETURNS, OR CANCELLATION ON THIS ITEM
Features:
Constructed of:
 high-quality materials and made in the USA
Used with:
 stainless steel Berkey system
Maintenance: Easily cleaned with soap and water as needed
Kit Includes: two washers and a wing nut
Details:
The Sight Glass Spigot for Stainless Steel Berkey Systems is an excellent addition to the Berkey System. Allows instant reading of water level in the lower chamber of your stainless steel Berkey system. This modification is very popular. The spigot has a larger diameter body than the standard spigot and the water flows noticeably faster making your Berkey water system even more efficient. The glass tube is partially encased in stainless steel making the unit strong and durable. All systems come standard with a basic spigot; the sight glass spigot is an upgrade purchase
Available in three sizes based on the system you own:

7.5"
-

For Travel Berkey and Big Berkey systems ($71.00)
10" - For Royal Berkey and Imperial Berkey systems
($75.00)
13"
-

For Crown Berkey system (includes sight glass brace) ($82.00)


---
FREQUENTLY ASKED QUESTIONS
---
reviews & questions