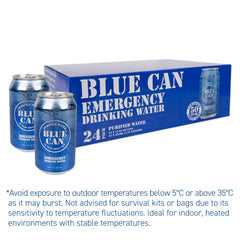 ITEM:

EWCC-001
BLUE CAN Emergency Drinking Water- 12oz
|
Price:
$46.75 Regular price $54.99 $54.99 Sale price Save 15% ($8.24)
description
reviews & questions
---
---
---
---
---
---
description
Details:
Blue Can Water was created to provide fresh long-lasting, great tasting, emergency drinking water in safely lined aluminum cans as the alternative to short shelf life plastic water bottles. Using a high-tech filtration system including sterilization that, once placed in lined aluminum cans under pressure, allows our water to stay 100% pure and fresh for decades.
This water is a smart choice to have in case of an emergency. It tastes great, and can last up to 50 years. Blue Can water comes in 355 ml (12oz) cans packed in flats of 24 units. It is purified, sterilized and disinfected to remove any chemicals or particles using a 12 step multi-stage process. This level of purity creates a clean fresh taste most plastic bottles fail to achieve. 

To maintain the quality of Blue Can Water, please store it between 33°F (0°C) and 145°F (55°C). Temperature fluctuations within this range are acceptable. However, DO NOT FREEZE the product.

Specifications:
Date of manufacturing: June/12/2023
No of Cans: 24

Weight per Can: 12 ounces (0.45 kg)
Per Can: 355 ml of water

Product Dimensions: 40.64 x 26.92 x 13.97 cm
Weight: ‎8.85 kg
---
FREQUENTLY ASKED QUESTIONS
---
reviews & questions