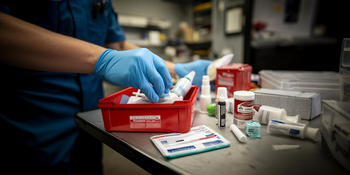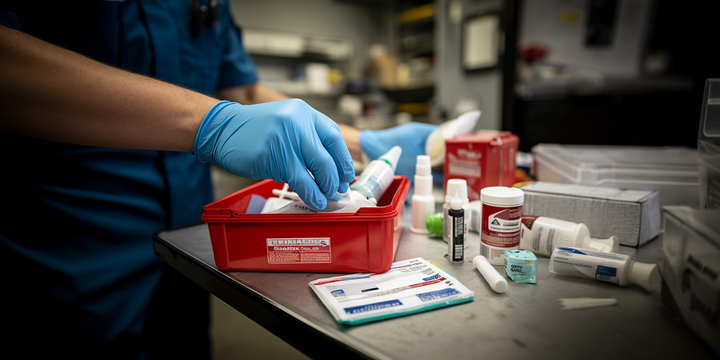 What are Nitrile Gloves?
Nitrile gloves are one-time use gloves that provide the first layer of defense for healthcare professionals and the patients that they are handling. They are intended to be used with other Personal Protective Equipment (PPE) that is mandated by public health agencies and the Government of Canada to prevent the spread of disease and infection.
Disposable nitrile gloves provide a higher degree of protection against viruses and germs compared to normal gloves. They are waterproof, oil-proof, greaseproof, and chemical resistant against a wide range of common chemicals and substances. Nitrile gloves have better resistance to chemicals compared to natural rubber gloves and are more durable and puncture-resistant.
Nitrile disposable gloves are made of synthetic rubber which is perfect for people who suffered from latex allergies. Punctures and rips in nitrile gloves tend to be more visible and detectable. They are also powder-free and non-sterile. Blue nitrile gloves are the most common colour and are popular with medical professionals.
These latex-free powder-free gloves can be used in a number of different scenarios including retail stores, customer service, restaurants, grocery stores, and public places.
Health Canada
Food and Drugs Act (FDA) and the Medical Devices Regulations are used to protect the health and safety of all Canadians. Through implementing and enforcing specific requirements for all medical devices sold in Canada.
Medical devices are classified into four groups which include Class I, II, III, and IV. The classification is based on the level of risk the device has to the risk and safety. Class I medical devices pose the lowest potential risk whereas Class IV poses the highest potential risk.
All devices that are Class II and above are licensed by Health Canada to be sold in the Canadian market. Before a license is given, the device must meet specific requirements and standards that are verified by Health Canada.
Medical Nitrile Gloves
Medical Nitrile Gloves are classified as Class II medical devices and must adhere to the standards and requirements of Health Canada. They are used to prevent the transmission of diseases and germs and provide a physical barrier against cross-contamination. The Canadian standard for gloves is the ISO 11193-1 or ASTM D3578 depending on the composition of the gloves. Gloves that meet the European standard, EN 455, also meet the required standards.
Specification and Standards:
 

Freedom from Holes

Dimensions

Physical Properties

Protein Leaching

Powder Residue

Powder Amount

Shelf life

ISO 11193-1

(Canada)

X

X

X

 

 

 

 

ASTM D3578

(USA)

X

X

X

X

X

X

 

EN 455

(Europe)

X

X

X

X

X

 

X
According to the Government of Canada, medical nitrile gloves must comply with Nitrile Rubber Latex – ISO 11193-1:2008, type 2, ASTM D 6319:2019, or EN 455-1 and EN455-2.
Non-Medical Nitrile Gloves
Unlike medical gloves, non-medical nitrile gloves are not subjected to the Medical Devices Regulations. With that being said, non-medical gloves and industrial- use gloves must clearly express they are not intended for medical use.
72Hours Nitrile Gloves
We carry medical-grade nitrile gloves brands in all sizes. 
Sizes include extra-small, small, medium, large, and extra-large.
The following is a list of the few standards that the different brands of nitrile gloves cover. This is a mixed list and does not apply to all of the nitrile glove brands carried:
ASTM D6319
EN 1149-1/2/3
FDA21 CFR 177-2600
ASTM D6978-05
ASTM F1670-08(2014)
ASTM F1671:2007
ASTM D7558-09(2014)
ASTM D6319