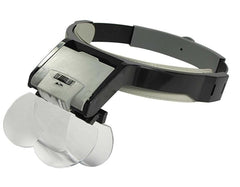 ITEM:

72Z-001
Head Magnifier- Illuminated Multipower- 1.5X,2X,2.5X,3.5X - Damaged Box
|
Price:
$17.84 Regular price $20.99 $20.99 Sale price Save 15% ($3.15)
description
reviews & questions
---
---
---
---
---
---
description
Features:
Multi-Coated Acrylic Lens

Magnification: 1.5X,2X,2.5X,3.5X
4pc Interchangeable Lenses
2 Lenses Can be Attached at the Same Time
Black & Gray Color
Detachable
Adjustable Head Strap with Rotating Dial
The angle of Light Can Adjust to be Vertical or Horizontal
2 White LED Bulbs
Comes with Plastic Storage Box to Hold Additional Lenses
Requires 2AAA Batteries (Batteries Not Included)
Color Box
How/When to Use:
In need of up-close work that requires magnification for detailed work, the headband magnifier provides not only magnification but also illumination. The head magnifier requires 2xAAA batteries to power the two adjustable white LEDs. Choose the required interchangeable lens and attach to the coupler. Open adjustable head strap to the largest setting with rotating dial and place on the head and slowly tighten until comfortable on the head. The light switch is located on top of the console to power the two white LEDs.
Additional Features:
Detachable
Adjustable Head Strap with Rotating Dial
The angle of Light Can Adjust to be Vertical or Horizontal
2 White LED Bulbs
Comes with Plastic Storage Box to Hold Additional Lenses
Requires 2AAA Batteries (Batteries Not Included)
Color Box
---
FREQUENTLY ASKED QUESTIONS
---
reviews & questions