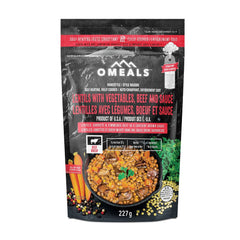 ITEM:

MRE-016
OMEALS Lentils Vegetables, Beef And Sauce (Expiration Date - 06-01-2025)
|
Price:
$10.99 Regular price $15.95 $15.95 Sale price Save 31% ($4.96)
description
reviews & questions
---
---
---
---
---
---
description
Details:
OMEALS® is powered by NXH® Heating Technology. Tested and certified non-toxic, odorless and safe to use in confined spaces.
Shelf Life: All our products are marked with a 36 month best by date, to ensure freshness, however, the product will be safe to eat after 60 months when stored in a cool dry place.
Filling, tender lentils coupled with juicy beef helps you feel satisfied longer. Carrots, onions, and spices simmered in full-bodied wine broth makes this the ultimate comfort food.
Protein matters, especially when our muscles need to recover quickly. That's why our meals always contain high amounts of protein for optimal muscle recovery.
Ingredients:
Water, Lentils, Carrots, Cooked Beef (Beef, Salt), Onions, Celery, Tomato Paste, Olive Oil, Modified Cornstarch, Burgundy Wine (Salt), Cabbage, Concentrated Beef Stock, Salt, Onion And Garlic Powder, Spices.
Weight: 227g
Instructions To Use
1. Remove All Contents
2. Place Food Pouch Inside Omeals Bag
3. Add Liquid
4. Add Heating Pad
5. Quickly Close The Bag And Let Steam
6. Once Finished Heating, Open And Enjoy!
---
FREQUENTLY ASKED QUESTIONS
---
reviews & questions