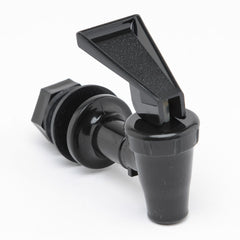 ITEM:

BAS-007
Berkey Standard Spigot for Berkey Systems
|
description
reviews & questions
---
---
---
---
---
---
description
Features:
Replacement standard spigot for Berkey stainless steel units. Fits the Travel Berkey, Big Berkey, Royal Berkey, Imperial Berkey, and Crown Berkey
Replacement standard spigot  for Berkey Light unit
All Berkey stainless steel and Berkey Light systems come standard with a spigot; in case of loss or damage, this item may be purchased individually as a replacement
Includes a washer and wingnut
Details:
The Standard Berkey® Spigot will fit all stainless steel Berkey Systems. This spigot is the same as the spigot that is included with all water purification systems. The spigot has three positions: off, on or attended on.
Compatibility: Assembly for Berkey stainless steel units:- Travel Berkey, Big Berkey, Royal Berkey, Imperial Berkey, and Crown Berkey
Kit Includes: A washer and wing nut
---
FREQUENTLY ASKED QUESTIONS
---
reviews & questions