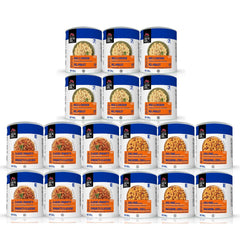 ITEM:

MHCP-001
126 Serving Lunch and Entree Package - 18 cans (Mountain House®)
|
description
reviews & questions
---
---
---
---
---
---
description
Features:

Clean Label Ingredients
Contains Real Meat
Includes Gluten-Free Options (See list below)
30 Year Shelf-Life
Inspected by the U.S.D.A.
Disclaimer - We reserve the right to replace #10 cans with other flavour #10 cans of equal or greater value.
What is 'Clean Label'?
Clean Label refers to reduced allergens and additives, and fewer, more recognizable ingredients. Clean Label is about the consumer's desire to have packaged foods made with more wholesome ingredients that are more natural and less processed. 
What's Included: Click on Link for Product Details
[6] Rice and Chicken #10 Can (Mountain House®) / Riz et poulet - Gluten-Free
[6] Chili Mac with Beef #10 Can (Mountain House®)/ Chili macaroni avec du boeuf 
[6] Spaghetti with Meat Sauce #10 Can (Mountain House®)/ Spaghetti avec sauce à la viande
Specifications:
Total Servings: 126
Total #10 cans: 18
Total Calories: 39 540
Mountain House Meals are Perfect for:
Emergency Preparedness
Camping
Backpacking
Hunting
Fishing
Travel
Occasional Everyday Use
To prepare a single serving:
1. Bring the necessary amount of water indicated on #10 can to a Boil
2. Remove from heat
3. Add the necessary amount of dry mix indicated on #10 can to water
4. Stir until mixed thoroughly
5. Cover. Let stand 5 to 10 minutes
6. Stir and serve
Who is Mountain House?
For nearly 50 years, consumers have continued to choose Mountain House as their favorite brand of freeze dried food for on-the-go adventures, emergency preparedness and survival. With just-add-water convenience, easy no-mess cleanup and home-cooked flavors, Mountain House is the best freeze dried camping, backpacking, hiking and emergency preparedness food money can buy!
---
reviews & questions